Purpose
The purpose of this assignment is to develop a business plan for a quality improvement project, program, or service related to an area of student interest within the selected healthcare organization.
Preparing the paper
A business plan is a detailed plan for a proposed program, project, or service.
The following outline should be used with level I and II headings as required. A template for the cover letter is provided below. Remember, there is no heading used for the introduction section.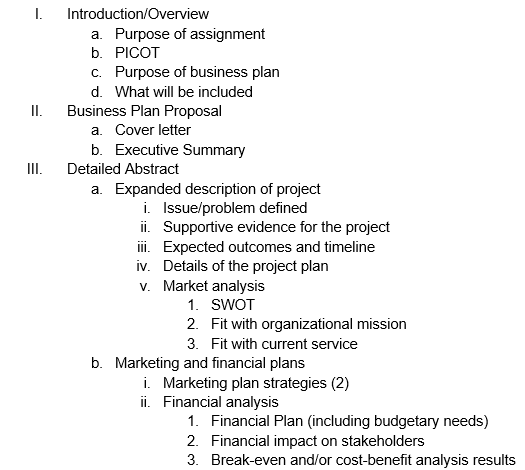 Solution
Business Plan Assignment
This assignment will offer information concerning a project intended to address how the implementation of a pull model for patient flow will reduce overcrowding in the medical-surgical unit. Overcrowding in the Emergency Department (ED) is a critical issue that needs to be examined  before a probable solution can be identified to address it in order to ensure delivery of quality care services to all patients. Thus, the implementation of a pull model will play a critical role in managing the flow of the patients, and reducing the length of stay in the medical-surgical unit. This assignment will include the proposal's business plan, project's purpose, project financial plan, strategies to approve the plan, and the key stakeholders involved in the project. The PICO (T) question is: Among the adult patients admitted to the medical-surgical unit (P), does the implementation of a pull model for patient flow (I), compared to the push model (C), help in reducing overcrowding in the medical-surgical unit (O) within a period of 6 months (T)? The purpose of the business plan is to help in executing the project and provide the necessary guidelines during the project's planning phase….Kindly click the purchase icon to  purchase the full solution at $10